Practice sessions happen online
Notable Upcoming Practice Events
(See Details Below)
— Concurrent Vajrayogini and Chakrasamvara Practices (Different Shrine Rooms, Combined for Protector Chants), Wednesdays, June 23 & 30
— Full Moon, Sadhana of Mahamudra, Thursday, June 24
Morning Sitting Meditation and Evening Protector Chants
Every Morning, 7:40 – 8:15 AM ET (13:40 – 14:15 CET)
In Main Shrine Room – Open to all
Every Evening, 5:15 – 5:45 PM ET (23:15 – 23:45) CET
In Main Shrine Room – Open to all
Sunday, June 20
Werma Sadhana Feast
In the Vajrayana Shrine Room
11:00 AM ET (17:00 CET)
Open to authorized students
Avalokiteshvara Nonmeditation Feast
In the Vajrayana Shrine Room
6:00 PM ET
Open to tantrikas with abhisheka or lung
(Text will be displayed)
Monday, June 21
Medicine Buddha Practice
In Main Shrine Room
7:00 PM ET
Open to all
Wednesday, June 23
Chakrasamvara Sadhana 
In the Vajrayana Shrine Room
—7:00-8:00 PM ET (Chakrasamvara Practice)
—8:00 PM ET (Protector Chants, Main Shrine Room)
Open to Chakrasamvara sadhakas with abhisheka and training
Vajrayogini Sadhana 
In the Feast Shrine Room
—7:00-8:00 PM ET (Vajrayogini Practice)
—8:00 PM ET (Protector Chants, Main Shrine Room)
Open to Vajrayogini sadhakas with abhisheka and training
Protector Chants
In Main Shrine Room
Open to all
8:00 PM ET
Thursday, June 24
Avalokiteshvara Sadhana of Nonmeditation
In the Vajrayana Shrine Room
Open to tantrikas with abhisheka or lung
One Session:
—19:00 CET (1:00 PM ET)
Full Moon Sadhana of Mahamudra
In Main Shrine Room
Open to all
Two Sessions:
—19:30 CET (1:30 PM ET)
—7:00 PM ET
Friday, June 25
Krodhikali Practice
In the Vajrayana Shrine Room
19:00 CET (1:00 PM ET)
Open to Vajrayogini practitioners with abhisheka or lung
VACT's Profound Guru Yoga
In the Vajrayana Shrine Room
7:00 PM ET
Open to tantrikas with lung
Sunday, June 27
Stroke of Ashe & Werma Sadhana
In the Vajrayana Shrine Room
— Stroke Practice, 10:30 AM ET (16:30 CET)
— Werma Practice, 11:00 AM ET (17:00 CET)
Open to authorized students
_______________________________________________________
Monday, June 28
Medicine Buddha Practice
In Main Shrine Room
7:00 PM ET
Open to all
Wednesday, June 30
Chakrasamvara Sadhana 
In the Vajrayana Shrine Room
—7:00-8:00 PM ET (Chakrasamvara Practice)
—8:00 PM ET (Protector Chants, Main Shrine Room)
Open to Chakrasamvara sadhakas with abhisheka and training
Vajrayogini Sadhana 
In the Feast Shrine Room
—7:00-8:00 PM ET (Vajrayogini Practice)
—8:00 PM ET (Protector Chants, Main Shrine Room)
Open to Vajrayogini sadhakas with abhisheka and training
Protector Chants
In Main Shrine Room
Open to all
8:00 PM ET
Thursday, July 1
Avalokiteshvara Sadhana of Nonmeditation
In the Vajrayana Shrine Room
Open to tantrikas with abhisheka or lung
Two Sessions:
—19:00 CET (1:00 PM ET)
—7:00 PM ET
Friday, July 2
Krodhikali Practice
In the Vajrayana Shrine Room
19:00 CET (1:00 PM ET)
Open to Vajrayogini practitioners with abhisheka or lung
VACT's Profound Guru Yoga
In the Vajrayana Shrine Room
7:00 PM ET
Open to tantrikas with lung
Sunday, July 4
Werma Sadhana & Study Session
In the Vajrayana Shrine Room
11:00 AM ET (17:00 CET)
Open to authorized students
Maitri Bhavana
Approximately twice a month we include individuals who are critically ill in our Maitri Bhavana practice. This loving kindness practice expresses our willingness to let go of our personal space, share in the suffering of others and provide them with support. To explicitly include a friend or relative in the next Maitri Bhavana session, send an email to the address below, naming the individual and their illness. If possible, include a picture.
Recordings, Documents and discussions
Watch Now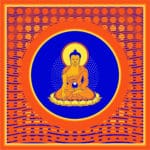 A Profound Treasury Practice Day

Online Meditation Retreat

9:30 - 5:00 pm EDT, Saturday, June 19

The day will include meditation, a talk and song offering by Meredith Monk, and an ikebana demonstration with Michele Laporte.